Sighting, blind swimming, stroke counting for pacing, stroke counting sets, working the buoy, water starts, land starts, sprint swimming, dolphin diving, power strokes, passing, cross over & focui related to water conditions, as they occur (white caps, long waves, against waves, etc).
Welcome Adult & Junior Swimmers (10-18 years)
All payments to Kelvin Landolt in cash in an envelope beachside. We need to understand/plan session and know your committment to the program(s), in advance.
Boot Camp - Cherry Sports Fields - 275 Unwin Ave, Toronto, ON M5A 3K8 - Google Map
Swims - Cherry Beach - Foot of Cherry Street - Google Map
Reasons for NOT Swimming:


We do NOT swim after huge down pouring of rain or during thunder storms.
Starts:
May 21 to Sept 12 - 16 Weeks

Season Fee

- included in rates below:

$30 add HST(13%)

10 Swims Pass -

add HST(13%)

Swim Schedule:
4 PM
Adults - Mon, Wed, Fri
10:30 AM
Youth Program - Mon, Wed, Fri
7 AM
Sat or Sunday
Email to register
Group Boot Camp & Swims sessions are challenging dryland and open water swim workouts.

Boot Camp: Not a beginner program. You should have some experience and ablity, and be injury free. 50 minute Tabata Style 45sec ON, 15sec Rest X 6 (for 6 minutes). Rest and repeat 6 Times. No equipment - only body weight. Gloves and towel needed - Yoga mat not manditory

Swim: You don't need speed, necessarily as much as competency in open water. Perfect for OW swimmers & Triathletes looking to get in some distance (1.5-5 KM per session) and experience.

Starts:
May 21 to Sept 12 - 16 Weeks

Season Fee

- included in rates below:

$30 add HST(13%)

12 Swims Only -

add HST(13%)

12 Boot Camp & Swims -

add HST(13%)

Boot Camp Schedule:
6 AM
Mon, Wed, Fri
8 AM
Sat
Swim Schedule:
7 AM
Adults - Mon, Wed, Fri
6 AM
Sat and Sunday
Email to register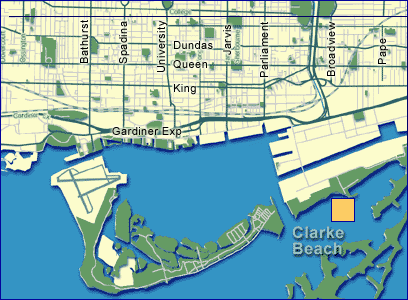 Cherry Beach is sometimes called 'Clarke Beach'